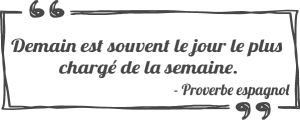 Procrastinateur de génie, terminator buggé, vous n'êtes jamais vaincu par les autres, mais toujours par vous-même.
Dimanche matin : « Ce rapport à faire me pourrit le week-end ! Bon, je le fais maintenant en buvant un bon thé. Mais ! la théière…où est-elle ? Tu l'as rangée où ? Ah ok…tant que j'y suis je vais faire la vaisselle. Bip. Tiens un message. »
« Aie, 11h30 faut que je me prépare pour aller chez les parents. »
« 17h, j'ai trop mangé, je n'arrive pas à réfléchir dans ces cas-là, promis je m'y mets après une petite série. »
Mais là, phénomène étrange..les sous-titres..les sous-titres partent en vrille : "Vous êtes en train de procrastiner". Choqué(e), vous décidez tout de même d'aller au bout de la série. Ça, bizarrement, vous y arrivez.
La soirée se termine et avec elle une bonne déprime quand vous pensez à ce rapport. C'est toujours ainsi lorsque vous devez faire une tâche qui vous ennuie.
Lorsque ce sont des actes et des idées vous tenant à coeur, il n'y a aucun problème, vous débordez d'enthousiasme et de volonté. Hélas, ce n'est que temporaire. Vous jouissez précocement des conséquences de vos actes imaginant d'ores et déjà en posséder tous les bénéfices.
Rien n'est alors jamais entrepris, car vous avez cramé votre jauge de motivation ou alors il en reste un peu pour bosser quelques heures/jours/mois avant d'abandonner. Vous, je, nous sommes des procrastinateurs. Une maladie comme une autre. Nous sommes concrètement nuls, théoriquement géniaux.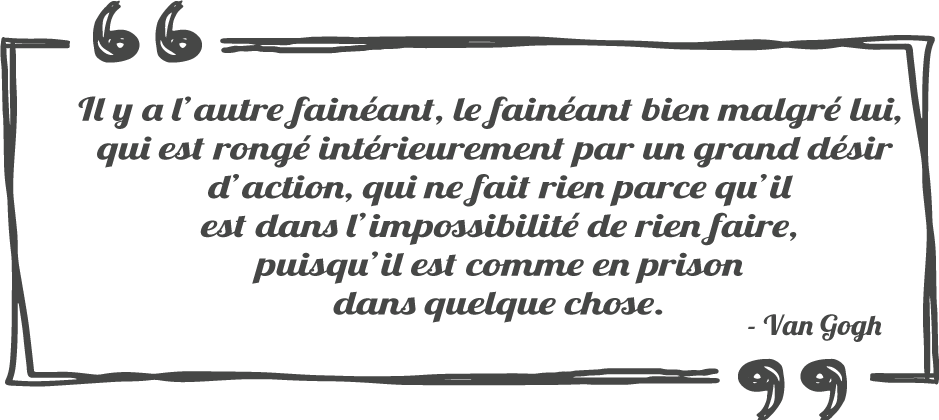 CAUSE DE LA PROCRASTINATION ? C'EST BOB LE COUPABLE !
Alors pourquoi ce jour sans fin ? Cette perpétuelle fuite ? Pourquoi procrastine-t-on tant ? Le coupable est tout désigné : c'est vous !
Ou plutôt ce bon vieux Bob, le subconscient.
Auteur-compositeur-interprète de notre vie, Bob nous rend des millions de services chaque jour. En échange il nous laisse des miettes d'indépendance.
Paternaliste qu'il est, il agit toujours dans ce qu'il pense être notre intérêt.
En ce qui concerne la procrastination – et parce que vous avez au cours du temps programmé ce comportement dans Bob – il privilégie la satisfaction immédiate au détriment du long terme.
Il vous protège ainsi du désordre mental via la recherche du plaisir instantané, tout comme pour une addiction au sucre, café, clope etc…
Ceci est d'autant plus vrai quand votre moral n'est pas au beau fixe. Les études suggèrent que la procrastination pourrait être un acte compensatoire d'une insatisfaction présente.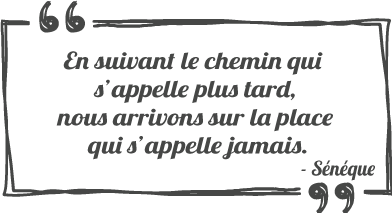 Les émotions impacteraient donc sur le degré de procrastination.
Le paradoxe de cette histoire, c'est que les personnes qui procrastinent, le font inconsciemment pour éviter une souffrance à court terme, alors que sur le long terme, l'acte procrastinatoire provoque bien plus de dégâts.
"JE NE VAIS JAMAIS AU BOUT DE CHOSE"
Le "non-jusqu'au-boutisme", on va l'appeler ainsi, est une des composantes de la procrastination.
Exemple répandu : vous voulez créer votre entreprise, une envie lancinante depuis 10 ans. Vous avez eu des dizaines de projets, entamé des foultitudes de choses, mais jamais rien n'est arrivé au bout.
Bing ! Bob is back pour vous protéger pour tout un tas de raisons enfouies dans les circuits, comme par exemple :
Raison possible n°1 : un manque de confiance en vous, un besoin compulsif d'être rassuré(e), validé(e) en permanence dans vos actions.
Comme le dit si bien Bertrand Russell : "Le problème en ce bas monde est que les imbéciles sont sûrs d'eux et fiers comme des coqs de basse-cour, alors que les gens intelligents sont emplis de doute." Bien vu Bertrand.
Raison possible n°2 : la peur de vous confronter. Dans la vie il y a les rêveurs et les réalistes, entre les deux, ceux qui réussissent.
En ce qui vous concerne, vous préférez rêver, éviter le face à face avec la réalité, car cela pourrait révéler que vous n'êtes pas aussi brillant que vous l'imaginez ou que ce qui se cache derrière le succès n'est pas aussi beau que la peinture esquissée dans votre esprit.
Raison possible n°3 : une erreur de votre cerveau en votre défaveur. Il y a conflit entre ce que vous pensez désirer et désirez vraiment.
L'idéal que vous avez créé n'est pas le vôtre, il a été emprunté pour satisfaire des besoins extérieurs à vous-même (plaire, s'intégrer, prouver sa valeur dans un domaine précis par rapport à des personnes précises).
Raison possible n°4 : (la plus courante) : vous ne vous sentez pas prêt(e). Demain ça ira mieux. L'herbe est toujours plus verte dans le futur et c'est à ce moment-là que vous agirez car vous serez au choix : meilleur(e), plus préparé(e), dans des conditions plus favorables. Bien sûr cette impression est totalement erronée et stérilisante à souhait.
UNE HISTOIRE DE PILULE À AVALER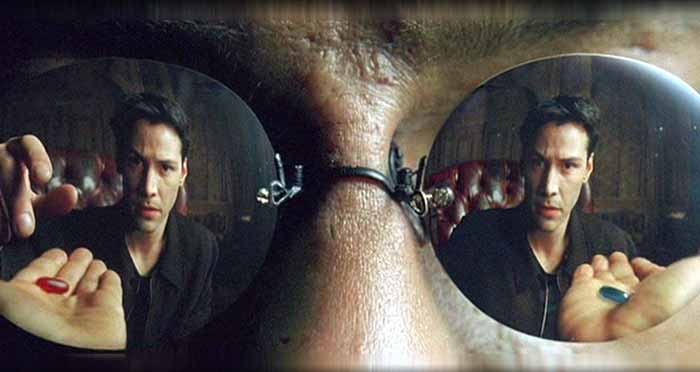 Bref, cela ne fait pas avancer le problème. L'étape une consiste à identifier les véritables causes de(s) dysfonctionnement(s) chez vous et de les accepter.
Que ce soit la procrastination elle-même ou l'incapacité d'arriver au bout des choses, sachez avant tout, que plus vous aurez de mal à admettre le diagnostic que vous ferez, plus les chances seront grandes que celui-ci soit le bon.
Il est dans tous les cas impératif qu'après vous être cogné la tête de déni contre les murs, vous vous décidiez à l'accepter, sans quoi vous continuerez à faire le hamster dans sa roue.
QUELQUES ÉCHAUFFEMENTS POUR ÉVITER LE CLAQUAGE
Pour l'incapacité à parvenir au bout des choses
Il serait de bon aloi de mettre toute votre énergie sur un seul et même projet, car c'est la clé. Néanmoins, j'ai bien envie de vous le déconseiller. Si vous sentez en être capable, allez-y, plongez, tentez votre chance.
Franchement, quand on a le cerveau tout le temps branché sur le 220 (j'en étais) c'est une torture de se mettre la ceinture du jour au lendemain.
Imaginez, vous n'avez pas mangé depuis deux mois et je vous propose une betterave tout de suite ou votre gâteau préféré deux mois plus tard. Vous pourriez résister quelques jours, mais au final vous la trouverez diablement sexy cette betterave.
Il faut donc accepter et corriger progressivement le problème, d'autant plus qu'à vouloir aller trop vite, le risque est de se concentrer sur un projet qui en réalité ne vous tenez pas tant à coeur.
Mettez d'abord la lumière sur les choses paraissant les plus importantes et surtout commencez-les. Bientôt vous verrez des choses prétendument importantes se dissoudre, ne laissant au final que l'essentiel.
Pour la procrastination pure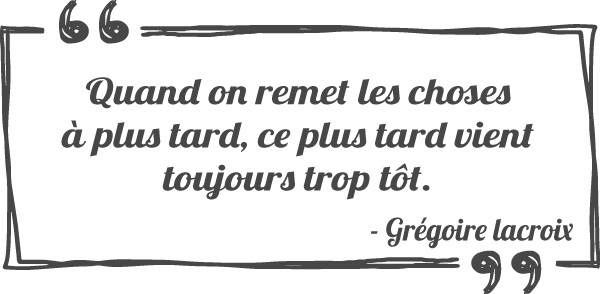 Il n'y a pas de médocs pour la procrastination chronique si ce n'est une cure de : commence bordel ! Matin, midi et soir.
Pas évident, mais il faut apprendre à (être instinctif) développer une psychologie inverse des bons conseils habituels: agir puis réfléchir.
En cas d'impossibilité de se lancer, il faut par exemple se lancer un défi qui se termine obligatoirement dans 30 secondes. L'important c'est de commencer et au final au lieu de procrastiner sur la télé le cerveau procrastine sur le boulot. Bien fait.
Il s'agit là de transformer une faiblesse en force. De toute manière, une fois les 30 premières secondes passées, tout ce qui se passe après c'est du bonus, vous êtes déjà un(e) winner.
PO PO PO POKER FACE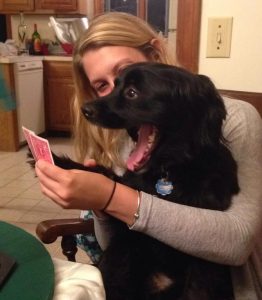 Attention également à l'enthousiasme, il faut le voir comme une arme à double tranchant et éviter d'imaginer la conséquence de ses actes.
La satisfaction, est la meilleure source de motivation possible pour toute personne normalement constituée.
Pour les procrastinateurs, c'est plutôt "keep calm" et programmation de la joie. Exemple : j'aurai le droit de m'enthousiasmer à l'instant T où je serais parvenu à XY, avant ça c'est: total contrôle des émotions et poker face.
PARLER DE PROCRASTINATION, C'EST ENCORE PROCRASTINER…TU N'AS PAS UNE MÉTHODE PLUTÔT ?
Si, j'en ai une ! Elle se base même sur 4 principes scientifiques :
1. Mettre des deadlines
Souvenez-vous de votre période scolaire. Comment réagissiez-vous lorsque le/la professeur(e) vous donnait un devoir à faire pour le lendemain ? Et comment réagissiez-vous lorsque, il ou elle, vous donnait un devoir à faire pour dans un mois ?
Curieusement de la même façon car pour les procrastinateurs, ce sont étonnamment deux situations d'urgence.
Dans le premier cas une urgence imposée par le timing.
Dans le second, imposée par la psychologie du procrastinateur, qui l'obligera à ne travailler qu'au dernier moment.
En se mettant des deadlines proches dans le temps, il s'agit d'imiter l'urgence du court terme pour réaliser un objectif long terme.
La science confirme cette technique. Se mettre des deadlines marche. Encore mieux si ces limites de temps sont imposées par le monde extérieur (professeur(e), patron, économie, pression sociale).
2. Rendre concret les buts ou objectifs abstraits
"Je veux maigrir", "Je veux être riche", "Je veux être heureux". Des objectifs nobles et beaux, n'est-ce pas ? Mais, est-ce vraiment excitant ?
Non, pas du tout.
Ce sont des objectifs communs et on n'a pas envie d'envoyer tout valser ce qu'il y a sur son bureau pour commencer maintenant.
Pourquoi ? Trop abstrait. Pas assez personnel.
Par contre, c'est beaucoup mieux si :
– Je vais gagner 1000 euros de plus ce mois-ci pour pouvoir offrir une belle niche à mon chien/ma belle mère.
– Je vais perdre 1 kilo avant dimanche soir.
– Ce soir je me laisse aller et m'offre une petite soirée tranquille devant un bon film.
Beaucoup plus concret et efficace.
3. Découper ses tâches en plusieurs petites parties
Imaginez une maison à construire.
Quel est votre degré de motivation si je vous dis : terminez-là pour dans trois mois ?
Quel est votre degré de motivation si je vous dis : terminez-moi le mur de la cuisine pour demain ?
Assurément, la deuxième tâche est plus motivante.
En découpant une grosse tâche en plusieurs petites, il est possible de s'amuser avec le système de récompense du cerveau humain.
Le travail devient un peu comme un jeu dont le but est d'accumuler les points (tâches réalisées) au cours de la journée.
4. Alterner repos et travail
Pour être productif, il faut savoir ne rien faire.
Les procrastinateurs sont très mauvais pour se reposer puisqu'ils sont très mauvais pour s'activer. Toujours entre deux eaux, ils ne profitent pas des bénéfices du travail, ni de ceux du repos.
Or le repos est le socle de toute productivité.
La méthode qui les regroupe tous
Voici une méthode très efficace pour lutter contre la procrastination:Le TimeBoxing. Le concept est simple :
– Se fixer un temps donné très court pour effectuer une mini tâche (exemple 20 minutes).
– Lancer le chronomètre et effectuer la tâche.
– Une fois le temps écoulé, se reposer (exemple 10 minutes).
– Effectuer une nouvelle tâche.
On retrouve dans cette technique tous les principes enoncés ci-dessus. (note: Nous sommes en train de construire un petit outil pour que vous puissiez profiter de cette technique. Pour être tenu informée de sa sortie, inscrivez-vous ici).
Lutter contre la vie moderne
Les procrastinateurs ne sont pas nés à la bonne époque.
Aujourd'hui tout est propice à la dispersion et il peut arriver de se surprendre en train de regarder un chat DJ sur Youtube alors que l'on devait tondre la pelouse.
Aussi voici des moyens de lutte moderne contre les chats (et la procrastination) :
– Isolez-vous, coupez Facebook, baillonnez votre navigateur web, court-circuitez votre télé, soyez injoignable, restez focus.
– Réservez les plaisirs distractifs uniquement à une certaine heure de la journée ou de la soirée.
– Observez-vous constamment pour vérifier que vous ne dérivez-pas, mettez un rappel toutes les X minutes sur votre téléphone.
– Faites des séances de motivation en vous parlant, en mettant une musique motivante, un discours, une distraction pour la distraction.
– Entourez-vous d'amis, de collègues pour réaliser certaines tâches. Mieux, déclarez ouvertement à vos proches que vous aurez terminé une tâche avant telle heure. La pression aide.
– Retenez tout ce qui est écrit dans cet article, inventez également vos propres méthodes et ne venez plus jamais procrastiner ici.
Résumé
Identifiez la ou les causes de votre procrastination.
Acceptez-les.
Amorcez des changements progressifs.
Restez calme, gérez vos émotions.
Utilisez la technique du timeboxing.
Évitez les pièges de la vie moderne.
Mesurez vos progrès.
Marre de procrastiner ?

Recevez des antidotes par email

ÉTUDES
L'importance des deadlines
http://faculty.haas.berkeley.edu/brchen/2001-104.pdf
Les effets à long terme de la procrastination :
Tice, D. M., & Baumeister, R. F. (1997). Longitudinal study of procrastination, performance, stress, and health: The costs and benefits of dawdling. Psychological Science, 8, 454–458.